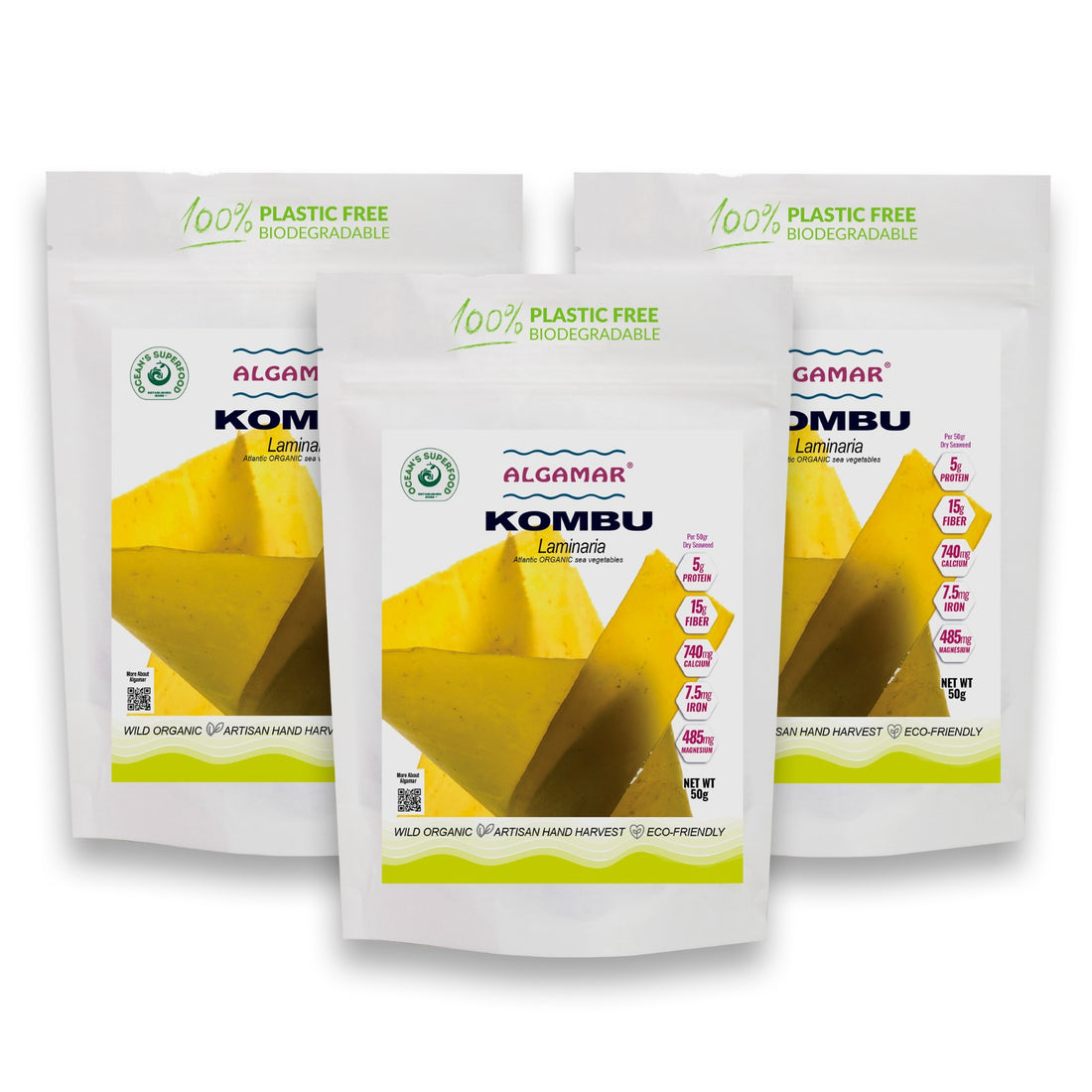 Kombu Laminaria, Atlantic Organic 50g in Bundle of 3
Our prestigious Wild Hand Harvested Organic Kombu Seaweed in bundle of 3. 
This option represent savings for you and savings for our Planet with less packaging and energy required. 
Take advantage of our long shelf-life, stock and save ! 
INSTRUCTIONS FOR USE: First rinse. Bake for 5 minutes at 200oC without soaking or crisp in a hot frying pan for soups, vegeta- bles, casseroles, onion omelettes, etc. Or 20 minutes in a pressure cooker. Or 1 hour in boiling water, together with lentils, chick peas, etc... 
This large, brown-grey sea vegetable grows at an average depth of 12 metres. Particularly rich in alginic acid, it has a meaty texture and is used in cooking to give flavour or as another vegetable. Its glutamic acid softens pulses. It satisfies the appetite and is rich in minerals, especially calcium and magnesium.
ALGAMAR selects its sea vegetables from the clean waters of the Atlantic and dries them at low temperatures (<42oC)
ECO / Organic, EU Control Norm CE nº 710/200
ES-ECO-022-GA Agriculture UE
Certified Origin
Quality Promise
Hand harvesting and hand selection of fresh and dried seaweed guarantees a top quality product and supports the local community with sustainable employment.
Algamar seaweed is certified as an ORGANIC FOOD by the European Regulation Control Authority (EC Regulation No. 710/2009).
We're Giving Back
In support of Sea Shepard, a portion of our proceeds go towards helping them protect and save our oceans.